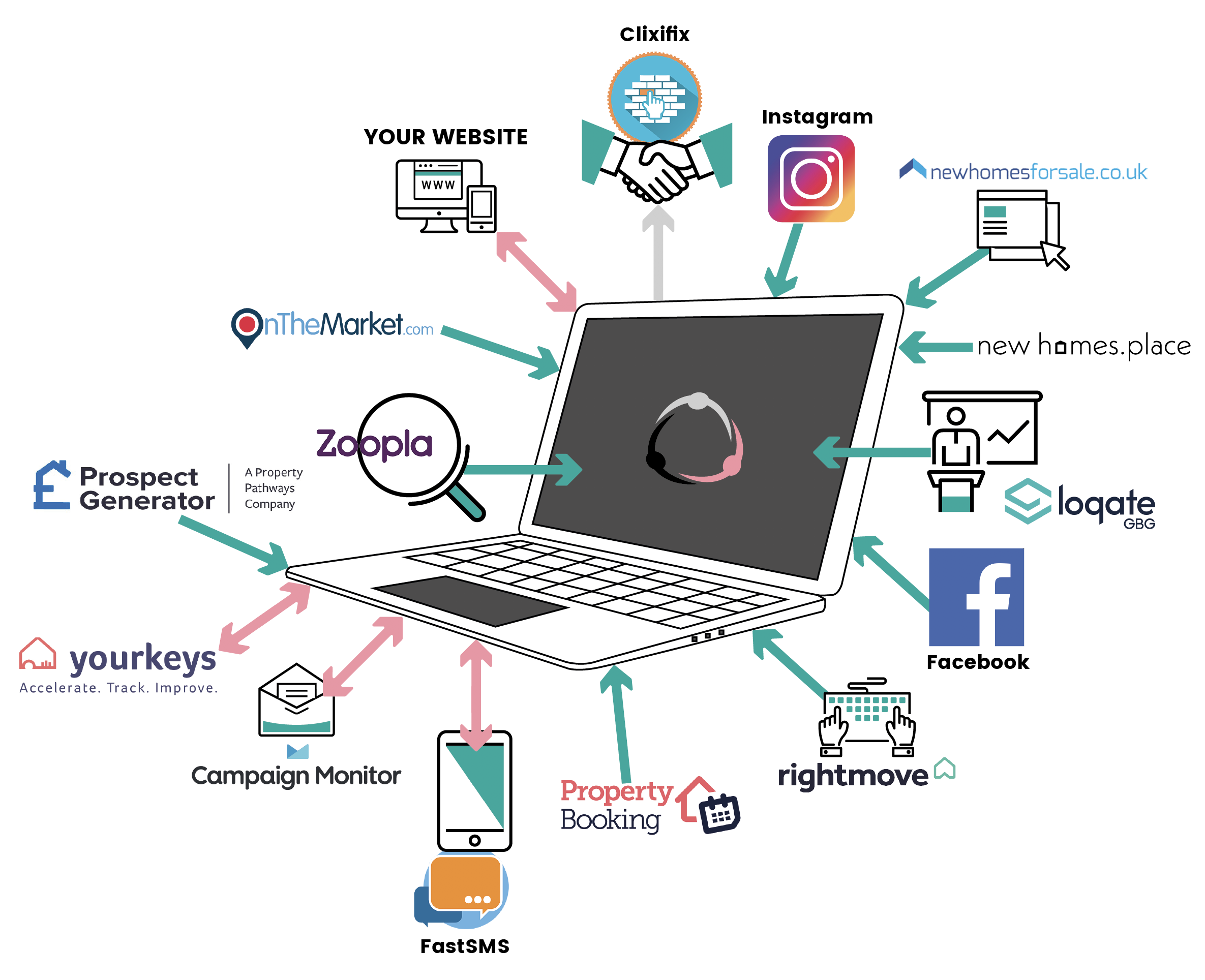 ContactBuilder is more than just a customer relationship management (CRM) system - it's a fully-integrated web-based, lead-management software solution. ContactBuilder allows you to do all the things a CRM system does and so much more, through its partnerships and integrations with property portals, marketing applications, web-based software systems and social media platforms.
The foundation of your ContactBuilder system is its integration with your website. This facilitates lead management straight from one of your main sources of lead generation. Many of our clients also integrate with popular property portals including Rightmove, Zoopla, OnTheMarket, and more. Through these integrations your sales team can easily follow-up incoming leads; it's as easy as logging into their account and following their new diary tasks that can be automatically generated by ContactBuilder.
Keeping in contact with your leads requires more than just phone calls. People routinely connect via email and SMS messaging, and your buyers expect a timely and convenient response via their medium of choice. Using marketing applications such as Campaign Monitor for email and FastSMS for text messaging, your team will be able to reach their potential buyers from a single login, tracking each and every communication with the contact, giving you accountability and peace of mind. You can even set up templates for a consistent tone of voice and ease of use.
We know that there are other web-based software systems that help you throughout the sales process, from Loqate for post code verification, to Clixifix and Yourkeys for aftercare and real-time sales progression respectively. We also know these systems are a vital part of your sales process and we work with them to provide you the best possible interface between our software and theirs, making it possible to create a totally integrated, end-to-end sales and after-sales solution.
Social media advertising is fantastic for reaching your audience wherever they are and with Facebook and Instagram's lead generation campaign objective, it's ideal for lead capture as well. With this new integration, these leads can be imported directly into ContactBuilder, no more faffing about with .csv file uploads or manual data entry. It also works with the messaging aspect of Facebook as well, ensuring that your leads are able to successfully communicate with you via their preferred medium, thereby removing barriers to communication and conversion.
We're perpetually improving ContactBuilder for the benefit of our clients. If you don't see an integration on our list for a service that you currently use, please contact our team. We are always happy to consider requests and we are committed to adding new integrations with services as they become popular with our clients.
Find out more about our integrations by visiting our partners page.