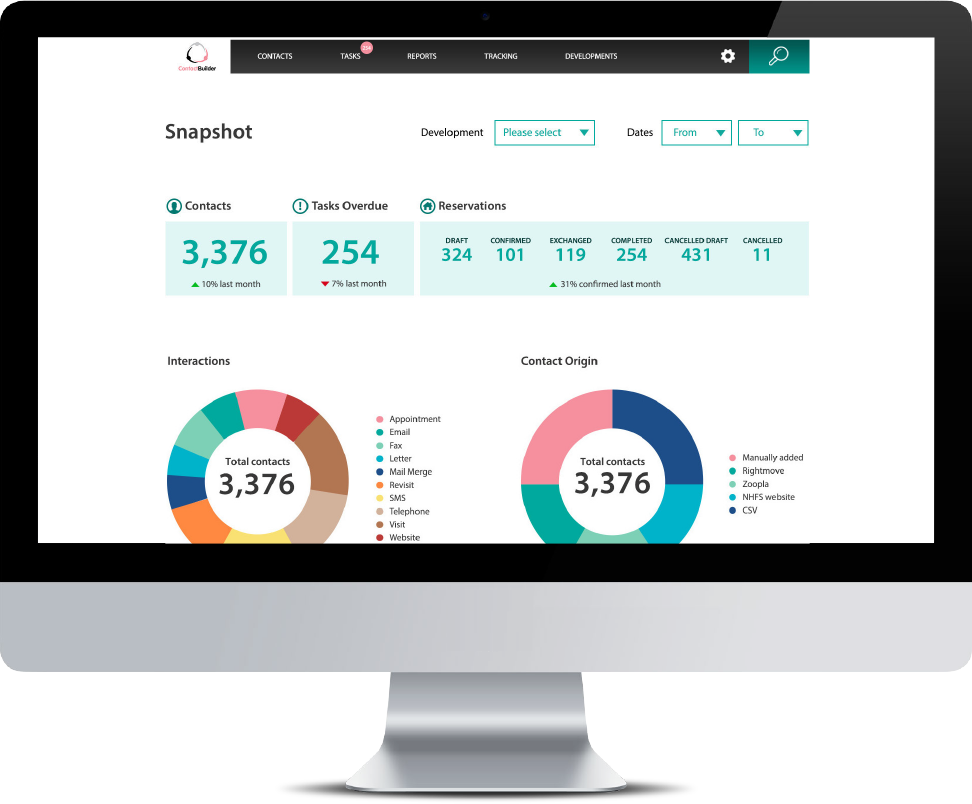 When it comes to the effective management of the modern new-home-buyer's journey, it cannot be achieved without a robust and effective customer relationship management (CRM) strategy in place.
Designed to deliver high-value information on the sales process uniformly across entire businesses, ContactBuilder is the elite tool currently revolutionising the housebuilder sales process up and down the UK.
Simple and effective, the ContactBuilder framework enables comprehensive customer tracking from start to finish in the home buying journey, in addition to integrating outbound marketing tools, such as targeted emails and SMS messages, and comprehensive reporting functions.
Whilst CRM software has developed greatly in recent years, few products cater specifically for the unique requirements of the housebuilding industry, and often provide irrelevant features or are simply not efficient in the context of new-homes sales processes. ContactBuilder has helped to dovetail effective CRM strategy with client feedback to perfect the most efficient monitoring of each prospect and customer, specifically for the housebuilding sector.
With an ever-increasing number of touch points through which modern customers are interacting with housebuilders, integrating these communication channels and logging customer interactions is vital to optimising marketing strategy and ensuring customer satisfaction.
A robust CRM strategy is absolutely vital in the modern new-homes marketplace, as ContactBuilder sales manager, Dorne Wood explains:
"Many companies I have come across still use spreadsheets, or even their little black books, for storing their prospect and client data. But these can easily become out of date, or even lost altogether – and what happens if the sales adviser leaves and takes her black book with her?
"If you manage your sales pipeline well, and have the right tools for the job, then you no longer need to spend so much time on administration and your sales teams can focus on what they do best: selling new homes.
"Purchasing a new home can be a daunting process and, especially as a first-time buyer, it can be a scary experience. To help make it a pleasant journey, frequent communication is vital to nurture these prospects; and, as developers are aware, it can be a long journey – up to two years or more in some cases.
"ContactBuilder has helped its clients to achieve substantial efficiencies by storing all their customers' data in one place and making it accessible anytime, anywhere, ensuring that it is easy for them to quickly look back and see how things have progressed, what conversation have taken place, what their customers' needs are and when do they next need to be updated. Can you honestly say you remember a conversation from 12 months ago? With a well-structured CRM system, you can!
"But there's no sense in investing in CRM technology if you can't get your team to use it. The last thing you need is a system that's difficult to implement or use. Simplicity in set-up and easy integration into daily routines are very important and this is why ContactBuilder works so well for the new homes industry.
"Beyond the simple sale of a home, customers provide developers with a variety of other vital data that ContactBuilder can record and developers can utilise as part of a holistic approach to customer profiling and overall marketing strategy.
"It can be argued that today's retail-oriented audience, as well as the high cost of homes, means that customers expect frequent, personalised communications, just like they receive from any big-name brand. ContactBuilder enables this, for businesses of any size."
For more information on ContactBuilder or to book a demonstration to see the system for yourself, visit contact-builder.co.uk.