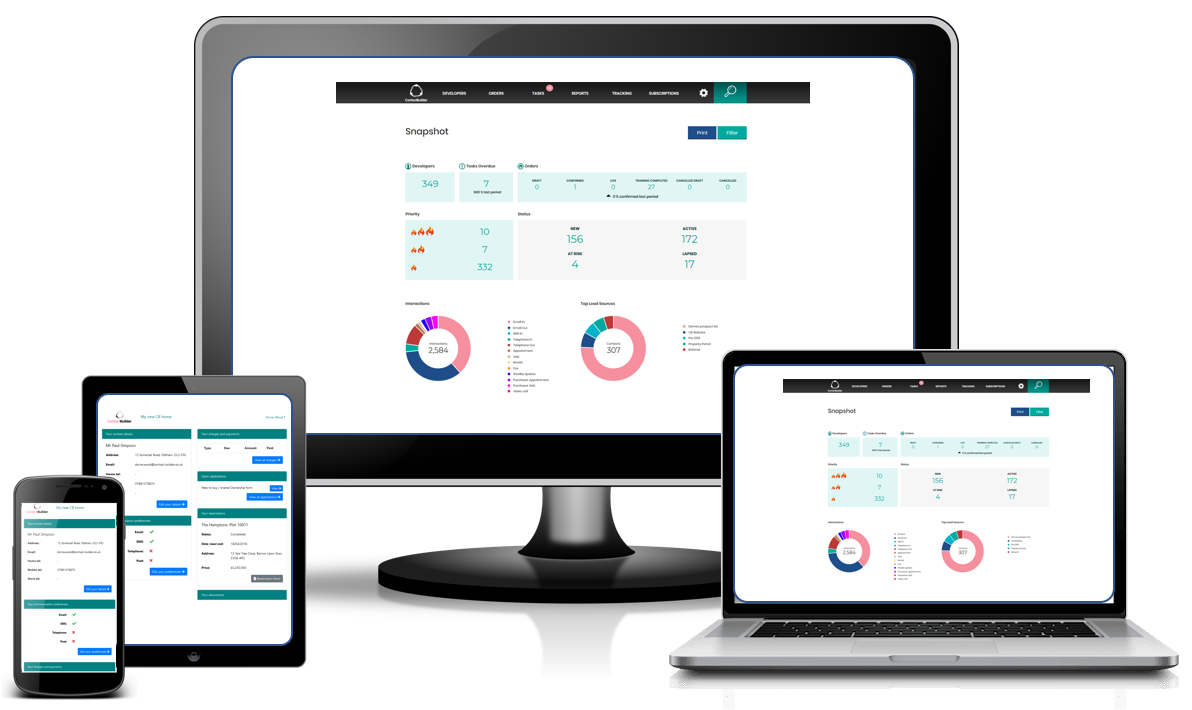 Why do you need a lead-management system?
We're all well-accustomed to the reality of a busy sales office: phones ringing, emails popping up in the corner of your screen, the potential purchaser walking in and needing your immediate attention. Whilst these are all positive, there's no getting away from the fact it can sometimes feel hard to juggle. Do you rely on flags in Outlook to prioritise emails you need to respond to? A spreadsheet for those phone enquiries you need to follow up... trying to organise and separate out those people who have made an initial enquiry vs those who may be a return-visitor?
These are issues we hear a lot about when talking to house builders and their sales teams. Capturing leads, following them up effectively and then when you secure a reservation, dealing with all the paperwork and admin that goes along with that can be a time-consuming task.
At ContactBuilder, we have worked hard to develop, and continually improve, our lead-management system built for house builders. The cloud-based set up means that anyone using the system can access it from anywhere, as long as they have an internet-connected device. It's a system we have designed, through many years' experience, to be very easy to use, whilst providing powerful and effective functionality that makes light work of managing your leads, your reservation to completion process and your sales aftercare.
An easy-to-use system supported by comprehensive training
Once set up is complete, ContactBuilder also provides comprehensive training to ensure that all users are confident with the system, are shown how to get the most from it and, importantly, have the opportunity to put questions to our trainer.
100% of trainees agree that
- our trainer is clear and engaging
- our trainer is supportive and helpful
- they feel prepared to use ContactBuilder in their role
Our training is usually conducted in a friendly workshop environment where users can learn together and those less confident with technology can benefit from other trainees who are more comfortable with it. Our training also allows people to use their preferred device, so someone more comfortable with a tablet for example would be able to learn the system this way rather than everyone being tied to a desktop. Where needed, we of course can also offer tailored one to one support.
If preferred, our training can also be delivered virtually, by webinar. This can be ideal for refresher training, training for a new staff member, or where a user only requires training on a certain aspect of the system. In the current climate this service is also beneficial for those restricted to working from home.
Another benefit to our remote training is that it can be offered to workers who are currently on furlough leave. Furloughed employees can engage in training, as long as in undertaking the training the employee does not provide services to, or generate revenue for, or on behalf of their organisation. This gives the opportunity to implement a new, more efficient system, perfect for kick-starting your sales push for the coming months, with no time lost to staff training. It could also be a perfect way to re-engage staff who haven't been able to utilise their skills for a while.
Like the ContactBuilder system itself, our training is designed with you in mind: to be flexible, easy to use, to free up your time, and to deliver results.
Some of our clients have said that other systems tend to be clunky and you are constantly clicking all over the place to obtain the information required, whereas ContactBuilder is a lot simpler and user friendly.
All ContactBuilder users also have access to our easy "how to" guides, and these can be used as a reference whenever they need a reminder. As new functionality is added to the system, these guides are updated and individual users can subscribe to receive notifications when these are updated so they can keep their knowledge up to date. However, our experience is that the majority of users find the system so easy to use that they don't need to do this.
To see more about our training, or to arrange a session, please see our training page for information.