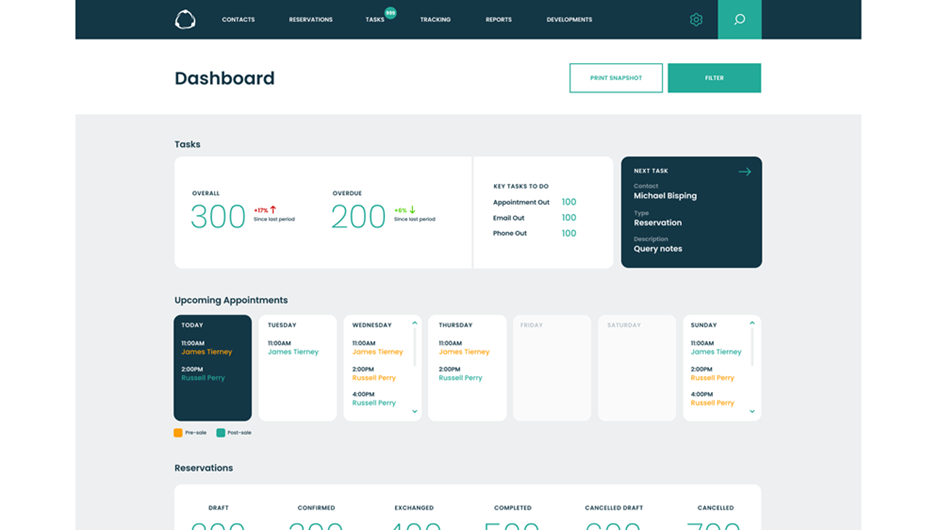 Introducing ContactBuilder Professional Edition. Keeping all the features you know and love but with a modern sleek design update, ContactBuilder Professional Edition is here to take you to the next level.
As advocates of user-centric design, ContactBuilder understands the importance of an intuitive interface, allowing you to seamlessly manage sales and collaborate with ease. Professional Edition boasts a research-driven upgraded and refined user interface, ensuring an effortless user experience for all.
In today's tougher market, staying ahead of the curve is essential. With ContactBuilder Professional Edition, you can keep up to date from wherever you're working. The secure cloud-based system suits the way you work, whether that's from home, in the office or onsite – you can access the system from any device.
Every housebuilder has unique requirements and preferences. Whether that's tracking sales progress, managing new leads, or monitoring aftercare, your dashboard can do it all.
As the market continues to toughen, it is crucial to focus your marketing efforts on the right audience to generate high-quality leads. As a complete housebuilder management solution, ContactBuilder Professional Edition allows you to communicate with potential purchasers via email and SMS directly from the system on a one-to-one or bulk-action basis, from the instant they enquire.
Communication is key. Your team need to access information quickly and efficiently and your purchasers want to stay up to date with the progress of their new home. That's why with ContactBuilder Professional Edition, your team can easily see what interactions have taken place and what stage the purchaser is at. If you opt to use the customer portal, you can create a branded interface for your purchasers to monitor the progress of their reservation themselves.
ContactBuilder Professional Edition is a comprehensive housebuilder management solution that covers each touchpoint of the build and buying journey more easily than ever before. Join the community of successful housebuilders who have chosen ContactBuilder as their ultimate construction partner.